ABOUT STOP PRESS

Stop Press is ISBN Magazine's guide to happenings in Hong Kong. From art to auctions and from food to fashion, to entertainment, cinema, sport, wine and design, scroll through the best of the city's dynamic cultural offerings. And if your event merits mention in our little book of lifestyle chic, write to us at stoppress@isbn-magazine.com
State of the Art
Saturday, February 4, 2012
CityU's Gallery 360 makes cutting-edge debut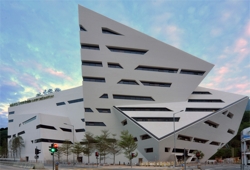 City University of Hong Kong (CityU) today [February 4] opens Gallery 360, a technological advances gallery featuring the groundbreaking visualisation techniques of the AVIE 360 degree 3D cinema, at the Run Run Shaw Creative Media Centre (CMC). Opened last October, the centre was designed by award-winning American architect Daniel Libeskind.
Gallery 360 builds on AVIE (Advanced Visualization and Interaction Environment), a unique 360-degree immersive 3D projection experience first developed by Professor Jeffrey Shaw at the UNSW iCinema Research Centre in Sydney, Australia, and is now incorporated into the research programme of the CityU Applied Laboratory for Interactive Visualization and Embodiment (ALiVE).
The opening exhibition showcases the Asian premiere of There Is Still Time..Brother, a panoramic interactive 'war' film made by New York's Wooster Group theatre company. Taking participation between viewer and cinema to new levels, an audience member controls the projection window that only reveals a portion of the Wooster Group's densely constructed 360° panoramic film.

Gallery 360 will host a number of unique events in coming months. In March, there will be an exhibition featuring the research project by (ALiVE). Heaven on Earth: Inside the Mogao Grottoes at Dunhuang immerses visitors in the quintessential heritage of its Buddhist temples, an art treasury abounding with murals, statues and architectural monuments. Other internationally recognised fine artists like Miao Xiaochun (China) and Jean Michel Bruyère (France) will feature in April and May. The exhibitions are open to the public for free. For more information, visit www.cityu.edu.hk/cmc.
©Studio Daniel Libeskind. Image: City University of Hong Kong