ABSOLUTELY FABERGÉ
A Buckingham Palace exhibition shows how six generations of Britain's Royal Family shaped the finest collection of Russian masterpieces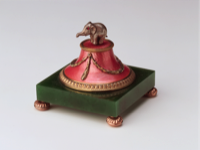 From dazzling Imperial Easter eggs, delicate flower ornaments and animal sculptures to cigarette cases, photograph frames and desk clocks, 19th-century Russian jeweller and goldsmith of French descent Peter Carl Fabergé [1846-1920] produced an eclectic portfolio of enamelled wonder, often turning the most routine object into a miniature work of art. Eminent jewel expert and writer Hans Nadelhoffer called Fabergé "indisputably the most refined enameller of the day," whose "great skill lay in applying five or six layers of enamel chosen from 144 different shades of colour to a metallic base of silver or 14-carat gold. The firing took place at a temperature of 700-800˚C, the metal first having been engraved with lines and dots to produce a geometric pattern which remained visible through the transparent enamel, creating the impression of shot silk". The majority of Fabergé's designs were never repeated, and most were made entirely by hand. Appointed supplier to the Imperial Court by Tsar Alexander III of Russia in 1885, the success of his business was inextricably linked to the patronage of the Romanov dynasty and close ties between the British, Danish and Russian royal families, who often exchanged works by Fabergé as personal gifts. Even Fabergé's budding French competitor Cartier was a collector in the early part of the 20th century: in 1910 they purchased a pink jade pig and a cornelian fox with cabochon ruby eyes set in gold.

Queen Victoria was the recipient of the inaugural association between the British royals and Fabergé, when in December 1896 Tsar Nicholas II gave her a notebook and case for her Diamond jubilee, signed by the crowned heads of Europe who attended the Buckingham Palace jubilee celebrations. But the most significant influence on the formation of the Royal Fabergé collection was Danish Princess Alexandra, the future consort of King Edward VII. [Her sister Dagmar became Tsarina Maria Feodorovna after marrying Tsar Alexander II in 1866]. King Edward VII and Queen Alexandra shared a mutual admiration for Fabergé creations and the Tsar and Tsarina regularly sent them pieces. In 1907 King Edward commissioned Fabergé to produce models of the horses, dogs and ducks on the Sandringham Estate, including his beloved Norfolk terrier Caesar, as a gift for Queen Alexandra. The couple's enthusiastic patronage of all things absolutely Fabergé prompted the opening of a London boutique on Bond Street.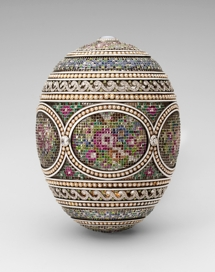 By this time, public aesthetic taste was changing with the onset of the new century: objects like photo frames, plants, animals carved from gemstones, clocks and table ornaments – from the classiest to the high kitsch – were the latest fads in aristocratic homes, with the upper classes, and even the stars of the theatre in London, Paris and New York. Clients like Leopold de Rothschild, having discovered the bibelots of Fabergé and his rivals, popularised them as ideal gifts, raising them to a level of chic acceptable to their peers.

King George V and Queen Mary and their smoking habit became Fabergé regulars too. They amassed a collection of cigarette cases and boxes, along with some of Fabergé's quirkier pieces; a clockwork elephant automaton for a 1929 Christmas present. Queen Mary displayed a weakness for Fabergé's objets de fantasie and acquired several, including furniture, a grand piano and a tea set. During the 1930's the couple purchased three Imperial Easter Eggs, formerly in possession of Tsarina Alexandra Feodorovna that had been confiscated during the Russian Revolution in 1917.

King George VI inherited and regularly used the collection of cigarette cases, adding to them during his reign. In 1946 he purchased a number of pieces for Queen Elizabeth, including a charming miniature desk. Queen Elizabeth The Queen Mother had a lifelong interest in Fabergé too, acquiring a number of pieces between the 1940's and 70's, ranging from animals and flowers to works in traditional Russian style.
"The British Royal Collection of Fabergé is unique and gives a remarkable insight into the dynastic relationships between the British, Danish and Russian Royal families in the late 19th and early 20th centuries," says Royal Fabergé curator Caroline de Guitaut. "The exhibition shows a royal enthusiasm for Fabergé that has lasted more than 100 years."

Her Majesty Queen Elizabeth has also acquired several pieces during her reign, some of which, such as a crystal inkwell presented to her and The Duke of Edinburgh for their 1947 marriage, are on display for the first time. His Royal Highness The Prince of Wales is also contributing a desk seal in the form of a frog. To see so many previously unseen masterpieces is to fall under Fabergé's evocative spell, but to view them in the exclusive surrounds of Buckingham Palace household elevates Royal Fabergé to the exhibition of the year.
The Royal Collection © 2011, Her Majesty Queen Elizabeth II

⁃ Inkwell, dating from before 1896, given to The Queen and The Duke of Edinburgh as a wedding present in 1947
⁃ Elephant bell push given to Queen Alexandra as a gift from Tsarina Feodorovna, 1896
⁃ Miniature tea set originally belonging to Queen Alexandra c. 1900
⁃ Notebook case presented to Queen Victoria to mark her Diamond Jubilee, 1897
⁃ Colonnade Imperial Easter Egg acquired by Queen Mary and King George V, 1931
⁃ Imperial Easter Egg - Basket of Flowers Egg, 1901
⁃ Mosaic Imperial Easter Egg, acquired by Queen Mary and King George V, 1933
⁃ Cigarette case given to Kind Edward VII to mark his 40th wedding anniversary, 1903
⁃ Desk seal dating from 1903-17, given to the Prince of Wales in 1981