BACK TO THE FUTURE
Classic, contemporary MINI Rocketman Concept is tomorrow's spin
MINI moments of inspiration are major events in the automotive world and have been since the little car's launch in 1959 triggered a revolution in the small car segment. Designed by Sir Alec Issigonis and made for the British Motor Corporation (BMC) at a time when the 1956 Suez crisis had caused fuel shortages, petrol rationing, and a slump in the sales of large cars, the MINI's [although early models were marketed as austin and Morris] space-saving front wheel-drive layout - in which 80 percent of the area of the car's floorplan was used for passengers and luggage - influenced a generation of carmakers. Despite a momentary dip in MINI's fortunes when BMW acquired the carmaker from Rover Group 11 years ago - during which time the brand's letters were capitalised - the car is once again the king, queen and knave with the big heart, the enduring small style icon of the road. Madonna and Kate Moss both drive a MINI and Prince William has requested one.

No one appreciates that connection better than MINI's recently appointed Danish designer anders Warming. "It's a dream job to design cars for the most emotional brand", he says, standing proudly by the MINI Rocketman concept car at last month's International Geneva Motor Show. "The MINI brand fits the way I think about things in the world. I believe you can have cars in your life that can be smaller, even objects, they don't have to be big and they can still be premium and luxurious, very emotional. the MINI today on the road does that. I drive one and it's a dream to drive, and everytime you look at it, your heart starts beating."
The MINI's evolution has been inextricably linked with innovative concepts for urban mobility which have placed a premium - and practicality - on the creative use of space. those ideas have ensured that driving fun has continued to grow even though space on roads has been shrinking. So it is with the Rocketman, a response to the fundamental requirements of mo- bile lifestyles in big cities of the future by pooling the brand's core values in concentrated form. the design harks back to the exterior dimensions of a the classic MINI, but with an infusion of new ideas and design language. With 18-inch wheels and that characteristic upper belt line, its wrap-around greenhouse of a roof rests atop a newly svelte frame, and plays host to a powerful silhouette with an innovative light concept that brings everything to life.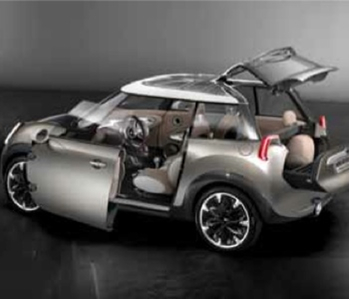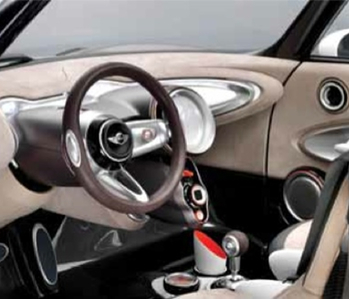 The solid glass roof is segmented by illuminated braces to re-create the look of britain's union-Jack. When not illuminated, the longitudinal, horizontal and diagonal braces glow porcelain white. In darkness the integrated optical fibres give the interior of the car a rich, ambient illumination.
MINI Rocketman makes use of lightweight design principles and an interior geared to maximum driving fun and unbeatable variability. a carbon spaceframe construction, whose striking surface structure is visible at the front end of the car, around its doors and in the interior, forms the basis for a weight-minimising construction. Wide- opening doors with double-hinge joints and integrated sills facilitate entry into the Rocketman.
They call this one a "3+1" seater – meaning that four can be done, three in total comfort, and 1+1 if serious sport beckons. clocking in a shade longer than three meters, the Rocketman is true to the fundamental ideals of Sir Alec's creative use of Space – to the cities of the future.
If the concept seems familiar – fuel efficient car filled with creative solutions to allow the maximum amount of room inside taking up the minimum space outside – that's because its born out of the core MINI philosophy.
Now more than 50 years later, the Rocketman concept addresses a future where limited resources – both in terms of energy and urban space – will become a fact of life. If necessity drove Sir Alex's mini design in the first place and spurned an automobile revolution, then Rocketman may be the new iteration that leads us into the next cycle of driving; all in all, another major motor- ing moment for MINI.
- Ben Berg