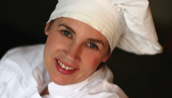 DARLICIOUS
French chef Hélène Darroze has two Michelin stars for her restaurant at London's Connaught, but insists products are the real constellations of her cuisine
A fourth generation descendant of a long line of chefs, Hélène Darroze began her official culinary career in 1990 when she worked as right-hand woman to Alain Ducasse at the Louis XV in Monaco for three years. She then went on to run her family's Villeneuve-de- Marsan restaurant before opening her own establishment 'Hélène Darroze' on the Left Bank in Paris in 1999. In 2001 she won her first Michelin star, achieving her second two years later. In July 2008, Darroze opened her eponymous restaurant at London's iconic Connaught, reinforcing this legendary Mayfair hotel's 110-year-old legacy as a food force.

On April 6 Darroze forms part of an illustrious group of 60 chefs who will honour French gastronomy at Versailles. The 650-guest dinner, at a cost of €890, marks the inclusion last year of the "Gastronomic Meal of the French" on UNESCO's list of Intangible Cultural Heritage of Humanity. The dinner has been organised by Jaume Tàpies, chairman of the board of Relais & Châteaux, and Marc Haeberlin, president of Grandes Tables du Monde. ISBN spoke with Darroze about Versailles, being a working mother and challenges in London.

Tell us about the 'Grand Chefs' event at Versailles on April 6.

French cuisine has been recognised as a UNESCO heritage item. They have asked chefs from all over the world to cook in Versailles, just one dish, for 60 people. It will be quite amazing, in this beautiful place.

What do you plan to cook?

I will cook escalopes tartare with caviar and with mousseline of cauliflower on the top, and an emulsion of ocean coral.

Why that dish?

I thought about conditions in which we will work in Versailles. I wanted to do something easy, without risk, because to do a hot dish with so many people and so many chefs is risky. So I chose to cook the food cold, but the emulsion will be hot, that's all. I don't want to take the risk of having things arrive cold at the table. It's a combination of British and French product.

Your food seems to divide opinion, a sort of love and hate. How did you find that when you first opened at the Connaught?

London is like that. Good and bad reviews. But at the beginning we were happy because we didn't get a lot of bad reviews. I don't have this feeling that I divide people. My cuisine is the contrary, you know what you get on the plate, it's a strong space.

Do you change the menu often or has your focus changed in any way since opening?

Well, there are seasonal dishes, and some that we keep because the guests ask for them and I'm known for that. We change the menu a lot. I work according to seasons, so, because of this reason I change. We change one or two dishes every two or three weeks. This week we have the white asparagus, which we launch next week. In four weeks the same with the morels, and then Spring with broad beans, etc ... The black truffle we have now is on two or three dishes. We are obliged to change a lot. But the black rice, the oyster tartare, we are obliged to keep on the menu.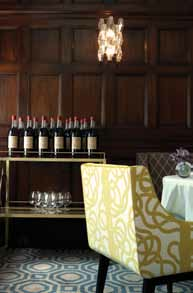 You became a chef by accident, not design. Is that true?

When I arrived at Alain Ducasse, I spent three months in the kitchen before starting in the office. During those months I realised that cooking is my passion. But I'd never had the idea to cook at this level. So I stayed in the kitchen, then came back to the office. When I decided to leave three years after, Ducasse said 'you should cook yourself, you should go in the kitchen. I know that you are capable, that you can do something in this gastronomic world, because you have passion, you know the product and you know what you want. You have taste. Technique is not so important. You have people around you to help you and you will learn this technique, but you have the sense of cooking.' I followed his advice and okay, now I'm here. Alain Ducasse is the one who pushed me to make the decision.

So you opened on your own straight after that?

No. After I came home to my father's restaurant and did five years there. He allowed me to make mis- takes, which was also important before going to Paris on my own. I was in the family restaurant for five years. I couldn't be a chef straight away.

What's the best dish that you can ever remember eating?

That's a very, very tough question. Let's see. I'll always remember Alain Ducasse's dish with the vegetables and black truffle, it's a signature dish from the Louis XV. I will ever remember the duck from La Tour d'Argent, but I was 18, in fact, it was my birthday, so it's a long time ago. The black truffle sandwich from Michel Rostang remains something special for me. The gargouillou at Michel Bras is something so amazing to me as well. Then 'pearls and oysters' from Thomas Keller I will also never forget.

What's your signature dish?

I'm very famous for the foie gras because it's from my country. The one with mild spices is very much appreciated. The black rice with calamari, chorizo and the regianno paremsan emulsion on the top; oyster tartare with caviar and white veloute is some- thing special from my cuisine also.

Have you been to El Bulli, and do you plan to visit Noma?

I hope Noma will be my next experience. Ferran Adrià and El Bulli - I went there five or six years ago.

How did you find it. In which ways did it strike you?

I'm very respectful about this way of cooking. But the style is not me at all. It's not what I can relate to or want to do. But I'm curious, to see such a way of thinking, and such a way of cooking. But only if Ferran is there. I don't understand people who want to cook like that in their kitchen. It's so special to someone, it's the work of one person and I don't understand why people would copy it. For me, it could only be appreciated when Ferran does that at El Bulli, not elsewhere. He helped put something new in the kitchen and the world of gastronomy.

What are your expectations of Noma?

I don't think it's anything like Ferran and El Bulli. I expect to be surprised. I'm also expecting a special experience in terms of ambience.

You're rare - a female chef in a men's domain, and also a working mother. Congratulations.

The fact I'm a woman is something special, there is not a lot of us. There is a choice between family and the job. And I've never had problems with guys in the kitchen. It's just a question of organisation. I have two daughters, well balanced, very happy, they have a special life in Paris and London. For them it's amazing, they speak two languages. It's a special life. They are four and two years old.

French or English food. Which do they prefer?

They love all food. Chinese, Vietnamese, Italian, they love pasta, they love fish 'n' chips. They are very open-minded.

Does British cuisine inspire you in any particular way?

I'm more inspired by products than British cuisine. I've made my version of fish 'n' chips in the brasserie at the Connaught, but in the fine dining, it's more about choosing British products and cooking them with my way of creativity.

What's the greatest challenge for you?

When you have a new place, it needs to get stabilised and be consistent. We just opened two-and-a-half years ago so there are still things to improve. The team can see what I want, there is a complicity which we had to create. We've now arrived at a level where complicity is there and we are a good team. We are strong enough.

You were a model for Colette in the film Ratatouille, I read.

Even if I think Colette is not really me, yes. [Laughter] They spent time with me. But I'm not so ... I'm more soft, in fact, than her. I'm softer. And I have blonde hair and hers is black.

How did the producers come to pick you?

I never know why they came. But Thomas Keller was involved in the film and it might well be because of him. He respects me a lot, and has asked chefs to spend time in my kitchen. [SS]