CONCRETE PLANS
Architects' Sketchbooks
is an enchanting, intimate gaze
at a language of expression
In this age of ubiquitous computer- generated imagery and digital doodling - iPhones and iPads as electronic easels - traditional notions of sketching and its audible creation - the flourish and rasp of pencil on parchment paper - can seem like a dying art.
Architects' Sketchbooks
, a newly released monograph by Thames & Hudson, is therefore a noteworthy barometer of the drawn-on-paper versus digital aesthetic as rendered through architecture, a discipline that readily accommodates both forms.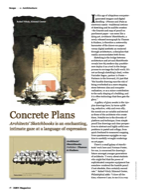 Sketching is the bridge between architecture and art and
Sketchbooks
reveals how 85 modern-day practitioners deploy it as a tool in the design process to envisage the built world. It's not as though sketching's dead, writes Narinder Sagoo, partner in Foster + Partners in the forword, it's just that "the humble drawing runs the risk of being overlooked as a mere stepping stone between idea and computer realization, or as a minor contribution to the early shaping of a building; and it is often technology that then gets the glory."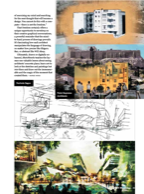 A gallery of glory awaits in the 750- plus drawings here; by turns uplifting, seductive, witty and even silly, the moods are as variable and storied as those of the architects who create them. Notable too is the diversity of platform and technique; from simple pencil line drawings and clear perspectives to abstract and highly artful compositions in pastel and collage, from quick freehand to measured mapping, from spontaneous squiggles on napkins to carefully wrought renderings on art paper. There's a small galaxy of starchitects' work here and Norman Foster, for one, is concerned for drawing's future amongst younger generations of architects: "I worry about students who might feel that the power of sophisticated computer equipment has somehow rendered the humble pencil if not obsolete, then certainly second rate." Rafael Viñoly [Kimmel Center, Philadelphia] adds: "I draw all the time, wherever I am; to me it is a way of exercising my mind and searching for the next thought that will become a design. You cannot do this with a computer - there is not the freedom."
That freedom certainly offers a unique opportunity to eavesdrop on their creative graphical conversations, a powerful reminder that the mind- to-hand process of drawings prevails. It's fascinating how each architect manipulates the language of drawing, no matter how precise like Shigeru Ban, or abstract like Will Alsop.
Ultimately, drawn or digitally enhanced,
Sketchbooks
teaches the layman one valuable lesson about seeing architects' concrete plans; learn not to look
at
the sketches and paintings but
into
them and draw out the immeasurable and the magic of the moment that created them. -
Sophie Wong