Whoaaa!
SMALL WORLD… Flying from New York to Sydney may take four hours by 2021, changing the way business is done
Concorde's legacy to air travel has become more tangible the longer its ogival silhouette has been ghosted from the sky. Planes may have got more energy efficient and environmentally friendly since 2003, but nothing's got close to matching what made Concorde the supreme bird of play - its speed. The irony of the accelerated electronic world is that air travel hasn't speeded with it; just because we can buy tickets quicker doesn't mean aircraft slice through the air any faster. Concorde wasn't just the sexiest carrier in the sky, it was Mach-tastically fast, futuristic and 50 years ahead of its time; all point and no peer.

And now - or at least, in the next decade - comes a super slick successor by the name of SonicStar, a supersonic business jet with a portfolio like no other, the ne plus ultra of fancy toys for highly executive boys that will debut in 2021.

SonicStar is the brainchild of HyperMach, a company set up by highly regarded aerospace executive and entrepreneur Richard Lugg, previously senior vice-president of the investment board of Arthur D. Little where he directed the company's Technology and Innovation Group. His work as chief scientist of SonicBlue Aerospace 15 years before led to his involvement with Nasa on several high-speed civil transport programmes, out of which the design and technology for SonicStar was born. With a prescient vision and roots firmly fixed in science, HyperMach believes SonicStar will change the future of air transportation.

"Our expectation is that the speed of the aircraft will enable a new era of face-to-face business"
Private jets have become a more established mode of transport over the last decade and with that growth - like many industries - has come the increasing expectations and demands of their users. HyperMach is the default response to those aspirations, and specifically, two key concerns shared by private jet users in the second decade of the 21st century: the amount of fuel consumed and its effect on the environment, as well as how to fly further, faster, without refuelling.

SonicStar addresses these issues in innovative ways: the hybrid engine maximises 50 percent fuel and 50 percent electricity from electromagnetic generation technology; all of which means emissions reduced by up to 50 percent and fuel bills downsized by half.

And then there's the speed. SonicStar will fly at long-range cruise speed of Mach 3.1 as its norm (Concorde routinely flew at Mach 2.o, or 2,170 kilometres per hour) and will cut journey times so dramatically - New York to Sydney will take just four hours, New York to Dubai the time of an in-flight film - it will redefine the way business gets done.

"Our expectation is that the speed of the aircraft will enable a new era of face-to-face business," says HyperMach's executive vice-president Judith Moreton. "People will be able to engage in person in a way that they have never been able to before. The life of a busy international business executive will completely change; they will be able to travel across the world to meet a business partner and be at home in time to put the kids to bed."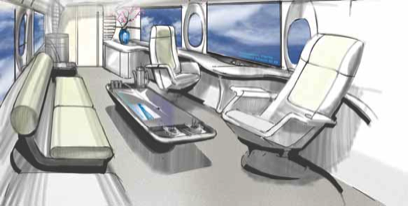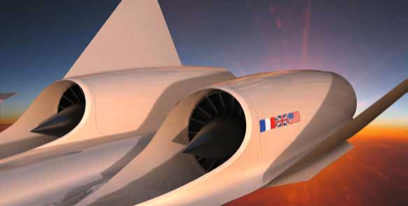 Moreton's no stranger to the world of leading edge business jets; prior HyperMach she served as managing director of Bombardier Skyjet, growing the business from a turnover of US$16 million in 2002, to US$90 million six years later, with much of that growth accounted for in Asia. In 2010 she established Little Blue Private Jets, offering personalised services to an established network of private jet users worldwide.
She knows better than most the zeitgeist of the high skies. "Most people are ready for something new in aviation. It was very disappointing when Concorde stopped flying and this represents the next leap forward in the technology of flight." A prototype model of SonicStar recently wowed punters at the Paris Air Show according to Moreton. "Everyone who saw the model and pictures of the aircraft thought it looked beautiful and very different from other aircraft currently available. There haven't really been any new developments in aviation for a long time and everyone's ready for an exciting development."
Moreton expects SonicStar to be purchased by much the same clients who buy private jets today. The cost of the aircraft - not yet disclosed - will be high relative to other private jets on the market but "the advantages of owning one (i.e. the unique speed that it will be able to fly at) will easily outweigh the cost," says Moreton.
Meantime, how much longer those long-haul flights will seem for the next 10 years, when suddenly SonicStar makes the other side of the world feel like it's well, next door.
- BEN BERG
Images: ©Hypermach Europe Aeronautics